November 19, 2013
I spent most of my childhood in rural Ohio where there were few Jews and where people presumed I was Christian each Christmas. Everyone said "Merry Christmas." Inwardly, I flinched. Outwardly, I usually smiled back and parroted the same holiday greeting.
I didn't begrudge Christians their celebration of Christmas. Just once, though, I wanted someone to recognize that other holidays existed. I looked at life through a Jewish lens.
Then today it happened. The gesture was ever so simple. There, on one side of a local grocery store's paper shopping bag was a picture of a menorah and the words, "The Wilson Farm Family Wishes your Family Happy Chanukah!" On the other side of the bag, the greeting was "Happy Thanksgiving," with a picture of a slice of pumpkin pie. Wilson's, based in Lexington, a Boston suburb, is an old-style farmer's market that grew into a large grocery store. They always have been careful to pay homage to Jewish holidays with Jewish-related foods, but I've never seen them put Hanukkah on a shopping bag.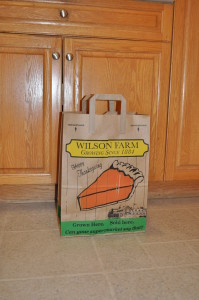 Somewhat environmentally conscious, I had taken a reusable grocery bag to the store, but when I saw the Hanukkah bag, I couldn't resist. I asked for one and gushed about how I couldn't wait to show it to my 5-year-old son.
Wilson's made this Jew very happy today. And yet, I couldn't help but wonder. How did non-Jews react when they received grocery bags with that picture of that menorah and the candles all aglow with orange flames? They don't celebrate Hanukkah. Would it make them feel left out like I did many times in my childhood? I seriously doubt it. My hunch is that the bag will give non-Jews a tiny glimpse at Hanukkah.
It might even nudge some to say Happy Hanukkah to their Jewish friends as Thanksgiving rolls around. Christians don't have to look far to find the vestiges of Christmas around them.
In a past blog post, I bemoaned store clerks' penchant to say Merry Christmas to everyone and proposed that we dump season's greetings in stores and let us simply say the appropriate greeting ourselves to friends and family. After today, I propose a slightly different solution. Find ways to celebrate the religious diversity of Americans with simple gestures, like a grocery bag. When it's Christmas, sure, put Christmas greetings on the bags. When it's Diwali, maybe stores can put Happy Diwali? When it's a Muslim holiday, recognize that. Use such touches to teach all of us about growing diversity of religions in our country and the holidays each group celebrates.
Hanukkah is arriving a day before Thanksgiving, a first-ever occurrence during my life time. The combination is a mixed blessing, in my view. It means scrambling to prepare for two holidays at once and searching for ways to incorporate favorite Hanukkah foods with turkey, stuffing, and cranberry sauce. I love, though, that the holiday combination grabbed headlines and has made many people more aware of Hanukkah. Articles about Jews' humorous attempts to combine the two holidays have made the front pages of newspapers. A new term has been coined: Thanksgivukuh. And it has led to a fun centerpiece decoration for our Thanksgiving table this year. My son and I decorated turkey candles at a local craft store and gave each turkey a yarmulke and tallit. Then we used the feathered tail to make a menorah. We'll light the candles on the menorah, but we plan to leave our rabbi turkeys alone.
I see another plus to Hanukkah at Thanksgiving time. It separates this minor, but special Jewish holiday celebration from Christmas. When it's Thanksgiving Day, I'll take my cue from Wilson's Farms. I won't say Happy Thanksgivukuh. I'll say, "Happy Thanksgiving," and when the sun sets, I'll say, "Happy Hanukkah!"