March 18, 2012
It was somehow fitting. On the anniversary of my brother's death on the Jewish calendar, I walked side by side with my mother up a South Carolina road.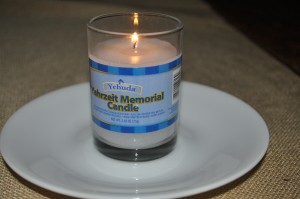 My parents choose to remember my brother by lighting a candle on March 1 – the actual date of his death on the American calendar. Over the years, I have grown closer to my Jewish faith – and its calendar. I heed the Jewish calendar, which means I may light the candle a week before or even weeks after March 1. Does it matter which date my parents or I light the candle? No. What matters is we pause a moment and intentionally remember the loved one that we lost. We light a candle, and let the tiny flame flicker in our homes for 24 hours. It is a small, yet powerful act.
And yet, this year, I didn't light a candle on the actual yahrzeit for my brother this year because I was at my parents' house in South Carolina. I took that walk with my mother. I hugged her as we talked about life in general and also briefly remembered my brother. I could've lit a candle in the guest room, but decided to wait until I got home a few days later. Did it feel sacrilegious? Not in the slightest. As always, lighting the candle made me a little sad even as the action comforted me. I lit the candle, stared at it for a moment, then helped put our son to bed.
Yesterday morning, I gazed at the candle as I readied to attend a Shabbat service and hear my brother's name read. The thought had crossed my mind to skip my practice of going to services to hear my brother's name because it was hard to fit it into my schedule. But I could not stop a tradition I have upheld for perhaps a decade. The coziness of my temple's Saturday minyan provided solace as I nervously anticipated the end of the service, the reading of the names of our loved ones, and the recitation of the Kaddish, the mourner's prayer. I stood when my brother's name was read and at first was one of only a few people standing. But as is my temple's custom, the rest of the congregation soon joined me — perhaps 15 to 20 others. Community once again hugged me in its warm embrace.
I did not shed a tear at yesterday's service. Some years hurt more than others. Do I miss my brother any less when I do not cry? No, but perhaps when my life is so incredibly full of love and joy, it is a little easier to mourn – and remember.