April 11, 2011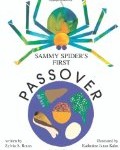 Children's books by Sylvia Rouss lately have fascinated my toddler and me. As Passover approaches, we are reading Sammy Spider's First Passover. And Sammy Spider's First Haggadah will take center stage at our first night seder. The Littlest Frog, which pokes fun at the Pharaoh as frogs jump on him, has become a new favorite.
So how did Rouss, a Jewish preschool teacher from Los Angeles, get her start as a Jewish children's author? Why create Sammy Spider, given Rouss is not a fan of crawling things? Read on for excerpts from my recent interview with Rouss.
Rouss, 60, who has taught Jewish preschool for more than 30 years, has 33 books in print or slated for publication. Her first book was Fun with Jewish Holiday Rhymes, published in 1992 by UAHC Press, the then publishing arm of the Reform Jewish movement.
Q: Growing up, what were your favorite children's books?
A: "I like Charlotte's Web, and I loved mystery books. I was a real fan of the Nancy Drew mystery books.
"I am not a fan of crawling things and spiders. As a child, when I saw a spider I found them to be so frightening, and I remember just shrieking anytime I saw a spider. Somehow Charlotte's Web became a comfort for me because I began to see the spider perhaps as not being as scary as I thought I was. It might have qualities I should appreciate. Charlotte was such a non-threatening spider."
Q: So why Sammy Spider?
A: "I decided to do for Jewish children what Charlotte had done for me."
Q: Seriously, why?
A: "I had seen a puppet show that uses a spider, and I wanted to write a Hanukkah story that would engage the children I taught. A lot of them were coming in with stories about how beautiful the Christmas tree at the mall was or the neighbor's decorations are. Yes, they are beautiful. I remember flipping through the television some night, and seeing Rudolph the Red-nosed Reindeer, Frosty the Snowman, and I thought, 'I want to create a character that young children can relate to.'
"I thought of the puppet show. A spider has eight legs; Hanukkah has eight days. I thought, 'Hey that will work.' The character became someone young children could relate to. This character wanted to celebrate Jewish holidays. He's not Jewish. He wants to be Jewish so badly. … The kids would develop an appreciation of what it means to be Jewish."
Q: What led you to becoming a children's book author?
A: "I had been teaching young Jewish children for several years, and sometimes I would be unable to find material on specific holidays. Or if I found something, the text would be a little too sophisticated. I started writing my own materials for use in my classroom. I would share what I had written with my colleagues. It was with their urging I decided to see if I could get something published."
Q: You have written in your blog how current events often trigger ideas for your books. Tell me about the internal conflict you faced over writing Reach for the Stars, the Little Torah's Journey. [FYI, this book is about a small Torah that Israeli astronaut Ilan Ramon took with him on the space shuttle that exploded over Texas in 2003. In writing the story, Rouss consulted with the Tel Aviv University professor who gave Ramon the Torah. The professor, as a child, celebrated his bar mitzvah using the Torah in the Bergen-Belsen concentration camp.]
A: "I started writing the story, and all of a sudden, the shuttle crashed. I thought, 'Okay, I can't do this anymore.' How do you write something for children that has such an extremely sad ending? Everyone was devastated. The professor, who was watching everything, was devastated. I pushed my writing aside. I waited a few weeks. … I contacted him, and said, I feel so badly. I know Ilan was your friend, and I know how terribly difficult this was for you.'
"I thought perhaps writing this story at this point in time was not the best time, and he wanted me to continue, and so I did. I continued to tap him for information. He told me about the rabbi (who owned the Torah scroll). This rabbi did not survive the camp [while three of his four children did].
"Even though it's a nonfiction story, I had to give life to the rabbi and his family. I decided to do research of my own, and went into the Bergen-Belsen archives. I got transport lists, documents that had been written by rabbis at the camps. …
"It was the most emotional undertaking because it was real. I would be receiving these documents in the middle of the night, sometimes written in German. I took German in high school, and could translate them. I remember putting myself into isolation. You're almost transported into that time and place."
Q: What other books of yours were influenced by current events?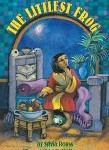 "The Littlest Frog is about a small frog that invades Pharaoh's palace along with the other frogs. At the time I wrote that story, there had been a shooting [August 1999] at our local JCC, and a white supremacist had entered the building while children were attending camp, and shot several of the children. He then left and shot a Filipino American postal worker. It really threw the community into just a state of despair. In the days that followed, many of the camp counselors were traumatized by the event and couldn't return to the camp. I ended up volunteering because my children had attended that school.
"The camp decided to celebrate Jewish life, and one of the ways they decided to do it was to celebrate all of the Jewish holidays. They asked if I would do something for Passover. I made a puppet show. With the littlest frog, those were the children who were so frightened by this horrible monster who had invaded their camp. All of those children became that littlest frog who hid under the Pharaoh's bed. That's why at the end of the story, the littlest frog finds his courage, and he jumps onto Pharaoh, and that's when we find out pharaoh is suddenly very afraid."
Q: We plan to use the Sammy Spider haggadah at our family's Seder. I notice that when it comes to the 10 plagues, you tread gently. There is no mention of the slaying of the first born, no mention of blood. Why leave some plagues out?
"As a teacher, when we talk about the plagues, we don't talk about the most gruesome ones. It's not to say that the children don't learn about them because they do. For children that are 3 and 4, and have not had many life experiences, I'd rather process a few of those plagues, not the entire 10, because it's a lot for them to take in, and it can be a little scary. I try to keep it light. I do say there were 10 plagues. I say there were 10 bad things that happen in Egypt, and we go into four of them."
Q: Establishing Jewish identity in children can be a challenge for many parents. What role do you see your books playing for parents?
A: "I think my books can be helpful to a parent if they match an action with reading the story. For instance, if you're going to read about Hanukkah, you want to be lighting candles in your own home. If you're going to read Sammy spider's First Sukkot, you want to be sure you build a sukkah in your yard. Your child is going to be asking the very same question as Sammy, 'why can't we have a Sukkah?' if you're not doing it. They are complements to celebrations, but they're not the end-all to celebrations."