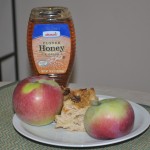 We gave our 2 ½-year-old assorted glimpses of the High Holy Days this year. If he could describe the experience, here's what he might say:
Rosh Hashanah: I help Mommy sprinkle crushed corn flakes and cinnamon on something called koo-gel. At dinner, we eat challah/Shabbat bread that's round instead of oval. We dip apples in gooey stuff. Mommy rushes out the door to sing at temple.
Tashlich: I run down a path to a beach at the Old Reservoir in Lexington, Mass. Mommy took me here a few months ago to swim. It's too cold for swimming, but that's ok. There are a few dogs running around and lots of people. I recognize a lot of them. "I want to pet the dog, Mommy." I see our temple rabbis and the cantor. She plays songs on her guitar. "Music. It's music," I proclaim. I am surprised. Music on the beach? Then everyone throws bread into the pond. "Feed the ducks?" I ask. I keep asking for more bread. This is fun.
(Aside: Mommy asks the cantor, "How am I supposed to explain this to a 2-year-old?" The cantor responds: "Don't try." Good answer. Some other year I can learn about how people throw bread crumbs into a body of water to symbolize getting rid of their sins. Some other year I can learn what a sin is.)
Kol Nidre: Mommy and Daddy dress up and head to temple. A babysitter – and the cantor's 4-year-old – come over. It's an after-dinner play date. Cool. And, I'm still awake when Mommy and Daddy get home. "Play ball?" I ask..
Yom Kippur: Mommy leaves the house early for temple, and Daddy plays with me till it's nap time. As dinner time nears, I get to go to temple, too. A group of kids gathers outside the sanctuary with glow sticks. I wave my light around. We wait and wait and wait. The rabbi's wife comes out and says it will be an hour before the end of the service – and our part. Daddy takes me to a room to play with some cool toys. After a while, we leave and line up outside the sanctuary with our light sticks. I hear loud screeches. (Aside: It's a group of volunteers blowing shofars to signal that Yom Kippur is over.)
Daddy walks behind me as I follow other kids into the sanctuary. I've never seen this many people at temple before. I hang on to my light stick. Ah, a familiar face. Our senior rabbi motions to me, and I climb up the stairs onto the bima. Daddy and I stand by other children, some also with their parents, holding their lights.
Mommy, dressed in this weird white robe with a brightly colored shawl, comes over and picks me up. I touch her cheeks to make sure she's listening and tell her what I'm thinking: "I want vanilla milk." It is close to 7 p.m. Mommy says, "Shh!" She says to look as the rabbi dunks a candle in a cup. Everyone around me sings, "Lai, lai, lai, lai…" Sounds pretty. "Vanilla milk," I repeat to Mommy. She smiles at me and sings. The music is pretty. The lights are pretty. Everyone seems so happy. Then, they all rush out of the sanctuary.
I finally get my vanilla milk. Then we rush out of the temple and drive to someone's house. I eat lox, part of a bagel, and a cookie. I play with a train set and Legos. On the way home, Mommy and I sing, "lai, lai, lai…."
To a sweet and good year.